Vortrags- und Diskussionsrunde von Andrea Mühlebach und Studierenden des Kurses "Rights of Nature"
Erneut eine Veranstaltung im Rahmen des Institutskolloquiums, die zusammen mit dem Bremen NatureCultures Lab organisiert wurde.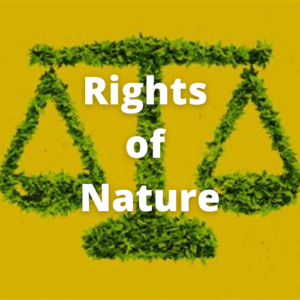 Studierende des "Rights of Nature"-Seminars von Andrea Muehlebach präsentieren ihre Forschungen zur Fragen, wie die Natur zur Zeit in vielen Teilen der Welt als Rechtssubjekt anerkannt wird, wie die Natur in dieser neuen "earth jurisprudence" von einer Ressource und von einem Objekt in ein Subjekt verwandelt wird und wie dieses neue Rechtssubjekt vor Gericht "sprechen" bzw. zum Sprechen gebracht werden kann. Wie hören Menschen der Natur – in der Form von Flüssen, Gletschern, ganzen Ökosystem – zu und wie können die Rechte dieses neuen Subjekts eingeklagt werden? Wir tauchen ein in das historische Konzept von "dominion", in die Gerichtsverfahren gegen Tiere im Mittelalter, in das International Tribunal on the Rights of Aquatic Ecosystems und die Frage, was die rapide sich wandelnden Kategorien wie "Natur", "zukünftige Generationen", "Eigentum" und "der Mensch" überhaupt noch sind.
Die Forschungen werden im Rahmen eines multimodalen Films präsentiert, und das Team steht nachher zur Diskussion bereit.
Dienstag, 21. Juni 2022 – 18:15h | Rotunde, Cartesium U Bremen (Enrique Schmidt-Str. 5)
HYBRID-EVENT – Registrierung für Online-Teilnahem: per E-Mail an xiaoling_at_uni-bremen.de